Kurn Hattin Select Choir to perform in live finale of Public Television's choral competition, "Together in Song," Sunday, April 27
WESTMINSTER, VT.—The Kurn Hattin Homes Select Choir has been chosen as one of seven regional choruses to appear in the live televised finale of the WGBY Public Television choral competition series, "Together in Song" on Sunday, April 27. The show highlights non-professional children's and adults' choirs from around Western New England in various musical genres.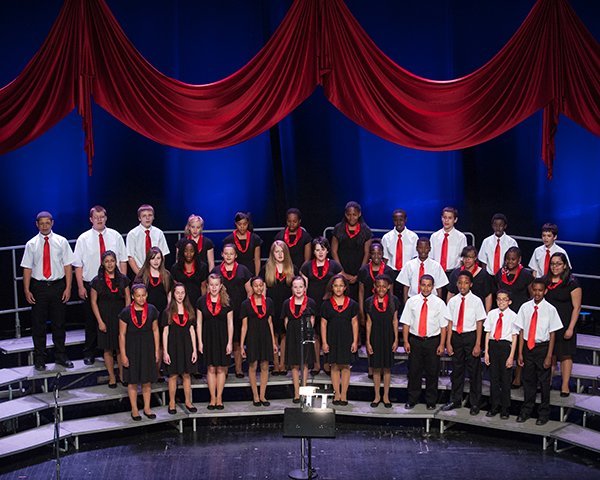 IMAGE: The 2013 Kurn Hattin Select Choir | CLICK FOR LARGER IMAGE
The seven finalist groups, whittled down from 40 entries, were chosen based on a combination of judges' scores and viewers' online and phoned-in votes. The group from Kurn Hattin was named a "Voter Favorite," and will perform in the Together in Song Regional Choral Awards finale show, to be broadcast live from WGBY's studios in Springfield, MA, on Sunday, April 27 at 7PM.
For their competition performance, which aired March 22 on WGBY, the 40-member ensemble from Kurn Hattin performed the Vermont state song, "These Green Hills," and "We Shall Overcome," a tribute to the late Pete Seeger.
Last year the Kurn Hattin Select Choir, directed by Grammy-nominated music director, Lisa Bianconi, was the first Vermont chorus selected for the show and took the "Top Performer," award in the children's Gospel category. This year they were again the only group from Vermont.
For further information on Together in Song and broadcast venues, visit togetherinsong.wgby.org.
A place of hope since 1894, Kurn Hattin Homes for Children provides a safe home and quality education for boys and girls, ages 5-15, whose families are experiencing a time of personal or financial need. Kurn Hattin Homes transforms the lives of children and their families forever.