Kurn Hattin Students Rally for Their Team
December 6, 2011 | WESTMINSTER, VT.-The Kurn Hattin children gave it all they got on Beach and Rally Day on Friday, December 2nd.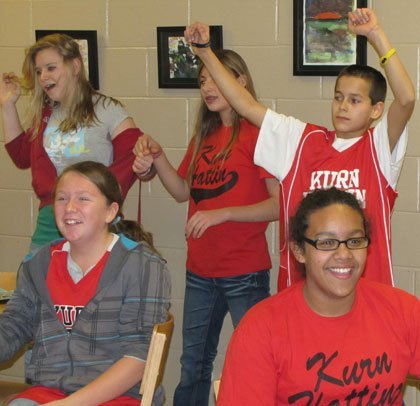 The festivities started with the kitchen staff wearing shorts and flip flops while grilling burgers and dogs outside for the students' lunch. There were even tiki torches around the grill. It was Beach and Rally Day after all. Following lunch, physical activity games, designed by our kitchen intern, were played to everyone's delight and Watson Hall dining room really started to rock. It wasn't difficult at all to keep the momentum going until after dinner when the staff and student body filled the Wheeler Gymnasium for a high energy Pep Rally complete with chants and dance for the upcoming basketball at home and away games. Physical activity, team spirit and encouragement are very important at Kurn Hattin and the children are more than excited to participate and give their support. We're looking forward to a great season and a lot of fun. Hope to see you at some of the games.
Kurn Hattin is a charitable, year-round, residential home and school located in Westminster, Vermont serving in-need and at-risk children, ages 6-15, from throughout the Northeast.