Kurn Hattin Welcomes New Staff, Board Members at 118th Annual Meeting
WESTMINSTER, VT—On October 4, 2013 Kurn Hattin Homes for Children held its 118th Annual Meeting of the Corporation. Established in 1894 as a home and school for children in need, the non-profit now serves 105 boys and girls, ages 6-15, from around the northeast. Second-term Board President Charles P. Kelsey chaired the meeting, which featured a performance by the Kurn Hattin Homes Select Choir as well as a dinner of Kurn Hattin farm produce, served by the students themselves.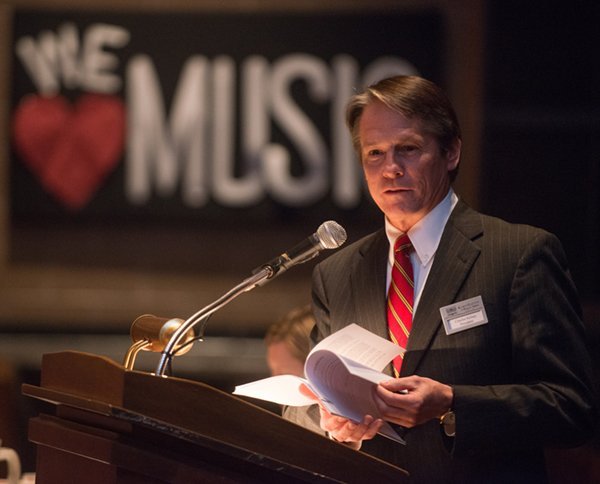 IMAGE: Charles P. Kelsey | CREDIT: Jeff Woodward | CLICK FOR LARGER IMAGE
Co-Executive Directors Tom Fahner and Connie Sanderson announced program updates, which include the finalization and adoption of a comprehensive strategic plan, outlining short- and long-term initiatives aimed at bolstering Kurn Hattin's ability to serve children in need and their families both today and into the future.
New Kurn Hattin Homes' staff members include Lisa Bloch, Assistant Director of Development. Prior to coming to Kurn Hattin, Bloch had served as Development Director for Southeastern Vermont Community Action (SEVCA) since 2007. In addition, Kathleen Gurney is the new Senior Accountant, and Elan Moses joined the Kurn Hattin Homes counseling staff.
Current staff members were also congratulated on position changes and promotions within the organization: Kim Fine has officially assumed the role of Kurn Hattin Homes' Director of Development, Tenielle Nicholson has taken over as Family Outreach Coordinator, and Kristin McGee is the new Section 504 Coordinator.
The following are this year's additions of incorporators to Kurn Hattin Homes' Board: Bill Abbott of Keene, N.H. served as Kurn Hattin Homes' Financial Manager from 1990 to 2003. He has served on the boards of several area organizations, including Prospect Place, The Woodward Home, and Cheshire Medical Center.
Christopher J. Hackett of Westminster, Vt., has returned to the Kurn Hattin Board after serving from 2001 to 2006. Chris is a Vice President with TD Bank, NA, specializing in commercial lending.
Retired Army Colonel Bruce Martin of Walpole, N.H. chaired a community-wide effort in Walpole to develop and fund the Walpole Veteran's Memorial, and currently works with the Fall Mountain Food Shelf.
William Scarlett served as the Director of Counseling at Kurn Hattin for eight years, beginning in 1999 and is now a school counselor at Bellows Falls Central Elementary School.
Greg Worden, owner of Vermont Artisan Designs in Brattleboro, Vt., has served as chair of the Brattleboro select board; a trustee of the Vermont Arts Council; a founder of Building a Better Brattleboro; president of the Arts Council of Windham County; and president of Big Brothers/Big Sisters.
Kurn Hattin Homes for Children is a charitable home and school for boys and girls, ages 6-15, who are affected by tragedy, social or economic hardship, or other disruption in family life. Its mission: Kurn Hattin transforms the lives of children and their families forever.
[flickr set=72157636620449916]
2013 Annual Meeting Photo Credit: Jeff Woodward Photography