Lea Wait Intrigues at Kurn Hattin Mystery Writing Contest Banquet
April 2, 2012 | Westminster, Vermont – Author, Lea Wait of Maine was the special guest at the 12th Annual Ziggy Ostrowski Mystery Writers' Contest Banquet at Kurn Hattin Homes. The students were challenged to continue Wait's story of Wintering Well.
Twelve years ago, writing coach, Ziggy Ostrowski began a mystery writing contest. Kurn Hattin librarian, Sally Mundell reflected, "Ziggy was convinced that students can rise to do things which at first, they think they are incapable of accomplishing, when given a challenge so big that it captures their imagination plus developing the needed skills, step by step. He was forever inviting each student to envision the next step and then breaking it into bits that were inviting instead of overpowering!" After he passed away in 2005, the contest was continued by teacher, Kristie Lisai and many well-known authors have joined the students on the evening of the banquet. Authors such as Archer Mayor, Karen Hesse, Jesse Haas, Katherine Paterson, Sarah Stewart Taylor, Jennifer McMahon, Nancy Means Wright, and many others have inspired the students at a banquet honoring the participants in the contest. Ziggy is remembered for his dedication and caring of the students and their quest to become great story writers .The students at Kurn Hattin study in groups according to ability and not by age and the highest two groups compete.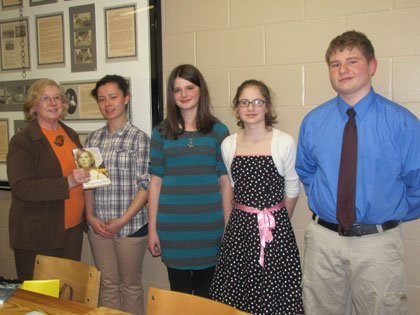 Photo Caption: (l-r) Author, Lea Wait with students, Jennifer Filiault, Krysta Gottfried, Scarlett Stanhope and John Harris at the Kurn Hattin Homes' 12th Annual Ziggy Ostrowski Writing Contest Banquet.
The 8th grade finalists were Scarlett Stanhope, Breanna Collins, John Harris and Jennifer Filiault. The seventh grade finalists were Krysta Gottfried and Sadie Gusha. The winners were Scarlett Stanhope and John Harris." This was a great experience and has inspired me to do more writing," Scarlett said. John added that he has great respect for writers. "I enjoy writing; it relieves stress." John's mother, Brenda Wilton-Harris and John's brother William also attended the contest banquet. Both are very proud of John's accomplishments.
The two winners were awarded a cash gift and a 25 point Caught Being Good coupon good for purchasing items in the campus store. All the contestants were awarded a Certificate of Achievement for their work. In addition, The Paul Gordon Memorial Prize was awarded to eighth grader, Nichole Kelley. Paul, a cook and avid reader at Kurn Hattin, had been a long-time judge and supporter of the contest. After Paul passed away his former supervisor Richard Johnson and wife Carol created the additional prize award of a book, which the winner desires. The prize is given to the student who shares the love that Paul had for reading and writing mysteries. Reading opens up a world of possibilities. For the Kurn Hattin students, anything is possible.
Kurn Hattin Homes is a year-round, charitable home and school for in-need and at-risk boys and girls, ages 6-15, from throughout the northeast.
Contact: Kim Fine
Kurn Hattin Homes
PO Box 127
Westminster, VT 05158
Tel: (802) 721-6914