Let Freedom Ring: Kurn Hattin Celebrates Diversity Week
WESTMINSTER, VT – The students and faculty of Kurn Hattin Homes don't just learn about and celebrate the important issues of justice, equality, and fairness for one day. At this school, compassion and equity are a way of life, and essential elements of good character. Martin Luther King Day is used as an opportunity to spend entire week learning about Civil Rights history, and exploring key diversity-related topics. The students kicked off the events at Kurn Hattin on Monday with a Martin Luther King Day assembly, where they learned about the men and women responsible for affecting positive and progressive change in the advancement of civil rights. The Kurn Hattin Select Choir then participated in an MLK Day program with Vermont Academy students, performing songs such as "We Shall Overcome" and "Shine a Little Light". An interactive presentation followed examining Martin Luther King's speeches, with a discussion and analysis of what made them so powerful.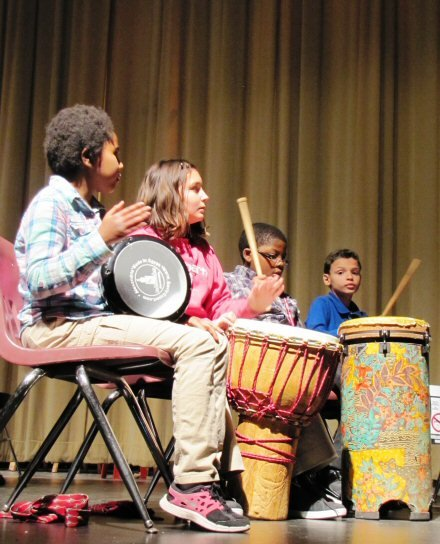 Photo caption: Kurn Hattin children performing with Artist in Residency, Todd Roach.
The school's acclaimed music program received a big boost this week, as well, thanks to a grant from the Vermont Arts Council, which funded the week-long Artist-in-Residency of Vermont percussionist, Todd Roach. The eclectic teacher and producer stayed on-site to teach the children to play Middle Eastern and North African percussion instruments and rhythms. Todd is the founder and Executive Director of The Loft in Brattleboro, and an administrator at Kindle Farm School.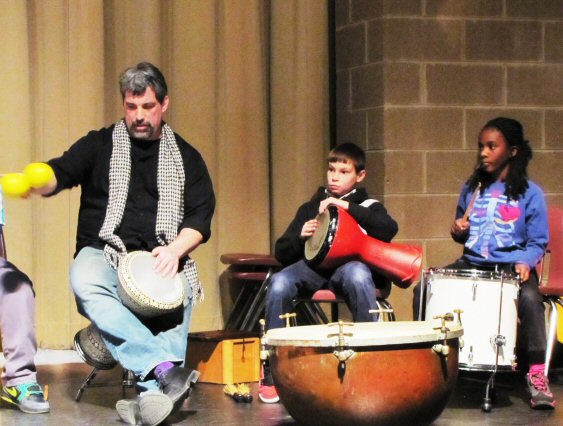 Photo caption: Kurn Hattin children performing with Artist in Residency, Todd Roach.
Daily presentation, courses, and interactive activities were provided to engage the children in thoughtful discussions. Residential Director Karen Lansberry and Principal Scott Tabachnick gave a presentation about Body Image and Self-esteem, which highlighted perceptions of physical appearance in the media and workplace, and discrimination. In Gender and Equality, an advocate and educator from the Women's Freedom Center engaged the children in age-appropriate discussions on gender roles and stereotypes today. Choosing Kindness involved the youngest students in a creative ball pit where they searched with a classmate for a ball with a question on it to discuss. For example, "What makes a good friend?" The TECHNICOOL program addressed: safe online practices, cyber-bullying, and the dangers and legalities of inappropriate photo texting. Mel Motel of the Just Schools Project gave a presentation on Ally Behavior. Others included: Diversity in America; Stereotypes, Prejudice, and Discrimination; and finally a screening and discussion of "To Kill a Mockingbird". The week concluded with a final Diversity Week Assembly and Concert with Drum Group and Choral Performances, Essay Awards & Poetry Reading.