Magic at Kurn Hattin Homes for Children
Westminster, VT – The Kurn Hattin children and staff had a magical morning with entertainer Steve Finer. Steve Finer has been entertaining with his magic and comedy since he was 6 years old growing up in the Boston area. In the last 50 years he has performed from Boston to Seattle Washington, traveling with his side kick "Charlie the Rabbit". Steve has also performed in Italy, Switzerland, France and Germany. He has called Killington Vermont his home with his family since 1983.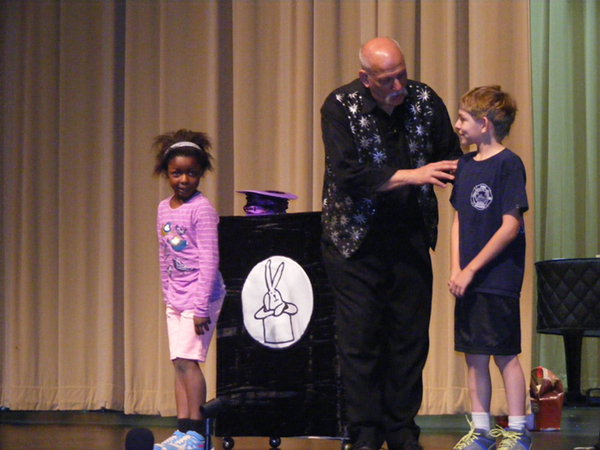 Magician Steve Finer with his Kurn Hattin assistants.
Steve spent 10 years teaching middle school Industrial arts before becoming a full time performer. Holding a Masters in Education, Steve uses his experiences to bring an educational lean to his performances. Children of all ages love his show. Steve is a member of the International Brotherhood of Magicians order of Merlin and Society of American Magicians. Steve has been a guest performer for the International Brotherhood of Magician's in Boston, Massachusetts. He is the only performer in the world at this time to float his assistant in the air atop a ski and make it snow all around her.
While performing at Kurn Hattin, Steve had several of the audience children and adults assist. Practice, practice, practice, he instilled in the children. No one's perfect and it takes a lot of practice to do anything well. He had the children really thinking when he spoke about having choices. "Do you feel grumpy in the morning sometimes? Ask yourselves then, how do I turn my grumpy off?"
Steve later spent time with a select group of 42 children, who were being rewarded for their superior behavior throughout the academic year, answering questions and explaining how a couple of his tricks are done. Steve Finer showed Kurn Hattin a performer and a man with immense talent and charisma. It was truly a magical morning for all.