Media Release: Kurn Hattin Historical Exhibit Opens at Vermont History Museum April 11
The Vermont Historical Society celebrates the Month of the Young Child with a showing of Kurn Hattin Homes for Children's historical exhibit, entitled A Legacy of Caring: Adapting to the Changing Needs of Children and Families. The exhibit, which tracks the historical evolution of one of Vermont's longest-standing child and family service agencies, will be on display at the Vermont History Museum, 109 State Street, Montpelier from April 11 through October, 2015.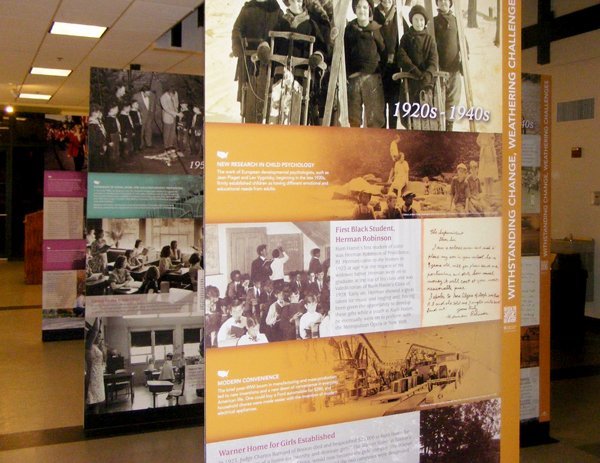 Display panels at the Historical Exhibit unveiling in Brattleboro, VT | High Resolution Image
The public is invited to attend the opening presentation hosted by Kurn Hattin's executive director, Connie Sanderson on Saturday, April 11 at 1:00 PM. Sanderson will introduce the exhibit, which features a collection of photos, documents, and records dating back to the late 1800s' through the present, and tells the story of Kurn Hattin's founding and development within the context of major events in Vermont and U.S. history, such as World Wars I and II, the Great Depression, and the Civil Rights Movement, as well as significant trends in the fields of child care, education, and social services since the turn of the 19th century that have helped to shape the organization's philosophy and approach.
Established in 1894, Kurn Hattin Homes for Children in Westminster, Vermont is a charitable, year-round home and school for boys and girls, ages 5-15, who are affected by tragedy and social or economic hardship. Kurn Hattin Homes transforms the lives of children and their families forever. www.kurnhattin.org
The Vermont Historical Society is a nonprofit organization that operates the Vermont History Museum in Montpelier, the Leahy Library and new Vermont Heritage Galleries in Barre, and programming throughout the state. Established in 1838, its purpose is to reach a broad audience through outstanding collections and statewide outreach. The Vermont Historical Society believes that an understanding of the past changes lives and builds better communities. Visit the Society's website at www.vermonthistory.org.