Messages of Hope and Compassion
The children at Kurn Hattin Homes have inspiration in an unlikely place. Thanks to the hard work and generosity of Leadership Southeastern Vermont (LSEVT), the restroom doors in the Kurn Hattin school now have wonderful reminders of kindness and self-worth.
In early June, the LSEVT volunteers painted the doors black and then decorated them with inspirational quotes chosen by the children. Kurn Hattin's five core values (hope, perseverance, sense of worth, compassion, and nurturance) were incorporated into the designs as well. This project is part of a larger goal to remind everyone in the world of their own unique and individual worth, and demonstrate how fostering the love of self positively impacts everyone in a community. Kurn Hattin was chosen to participate in the service project because of its high visibility to the public who come to visit and for the children in our care.
Kurn Hattin Homes extends its gratitude to the LSEVT volunteers: Alina Abraham, Shawna Bah, Amber J. Bedi, Nina Biscotti, and Heather Hartford. Now even our restrooms promote love and kindness!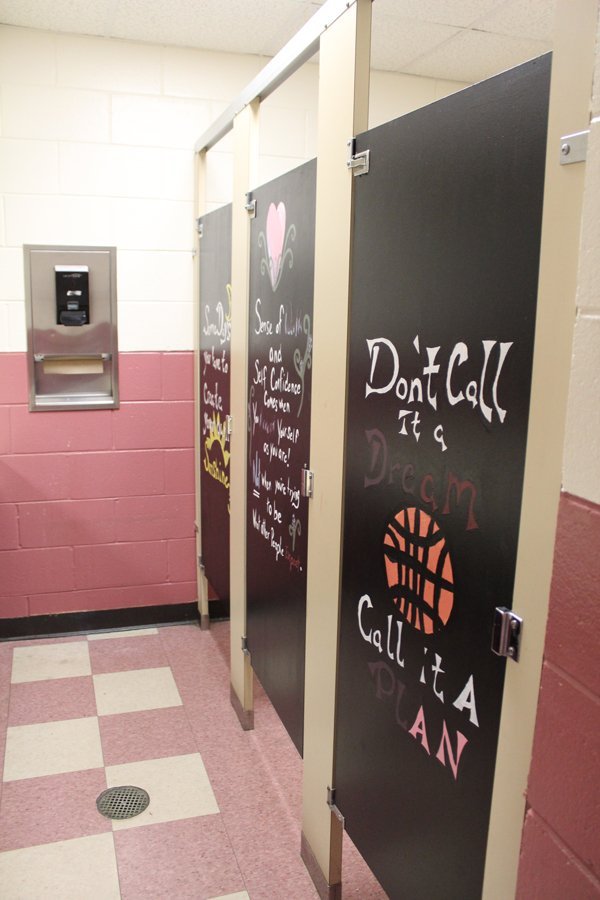 Photo Caption: The Kurn Hattin school restrooms have been repainted by volunteers from Leadership Southeastern Vermont (LSEVT) to promote messages of self-love and kindness to others.