New Award from Kurn Hattin Homes Honors Those Who Help Children and Families in Need
WESTMINSTER, VT— Kurn Hattin Homes for Children wants to recognize those who work to make a difference in the lives of children and families. Earlier in 2013, the non-profit home and school for disadvantaged children established the Charles Albert Dickinson Award to recognize individuals and organizations for outstanding contributions to the field of child welfare, and commitment to Kurn Hattin's mission of transforming the lives of children and their families.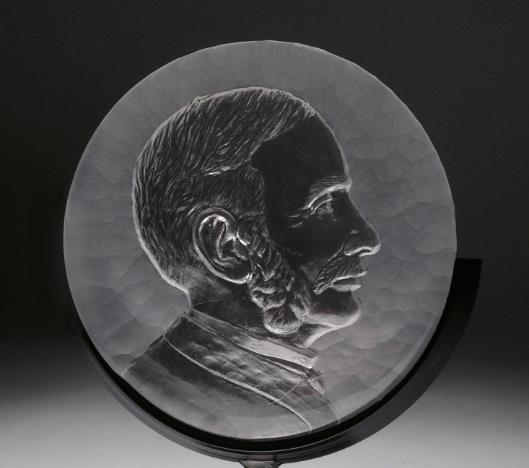 (Photo: The 2013 Charles Albert Dickinson Award, designed by Vermont artist Robert DuGrenier)
The award was designed and created by Vermont artist Robert DuGrenier and features a cast crystal relief sculpture displaying an image of Kurn Hattin Homes' founder, Charles Albert Dickinson.The style is based on that of Augustus Saint-Gaudens, great American sculptor and contemporary of Dickinson.
Charles Dickinson was raised in the small town of Westminster, Vermont, where Kurn Hattin Homes is located. A prominent Boston clergyman in the late 1800s, he worked with homeless and neglected youth in the city. It was then that Dickinson developed his vision to create a home and school where children in need could experience the kind of childhood he himself had enjoyed in Vermont. Dickinson believed that the rural New England farm life instilled in children all of the values and strength of character necessary to lead a successful, productive life.
The recipient of the 2013 Charles Albert Dickinson award is the National Society of New England Women (NSNEW), an organization with a 120-year history of involvement in patriotic, educational, and charitable projects benefiting children and families, from funding programs for hearing-impaired children, to providing student loans to needy college students, to helping men and women of the military stay in contact with their families.
Kurn Hattin Homes Co-Executive Director, Connie Sanderson, spoke about the selection process for the inaugural award, "We wanted to recognize and thank those who share Kurn Hattin's aim of creating enduring opportunities for children and families to succeed. We chose the National Society of New England Women for the inaugural award because over the years, thousands of their members nationwide have faithfully supported this mission, allowing through their work, the success of generations of children in need."
The 2013 awards ceremony will be held December 12, as part of Kurn Hattin's Holiday Visitors Day celebration. Linda Brown Jones, President General of the NSNEW will personally accept the award. The program will include a special holiday luncheon featuring Kurn Hattin farm produce and served by Kurn Hattin students. Lunch will be followed by musical performances by the Kurn Hattin Children's choir and band with special guest Maestro Hugh Keelan of the Windham Orchestra.
In spring 2014, Kurn Hattin Homes will hold a call for nominations for next year's Charles Albert Dickinson award. Nomination procedures and forms will be available at www.helpforkids.org.
Established in 1894, Kurn Hattin Homes for Children in Westminster, Vermont is a charitable, year-round home and school for boys and girls, ages 6-15, who are affected by tragedy, social or economic hardship, or other disruption in family life. Kurn Hattin Homes transforms the lives of children and their families forever.