Children are the world's most valuable resource and its best hope for the

future.
~John Fitzgerald Kennedy
Charles P. Kelsey of Deerfield, N.H. is the new President of the Board of Trustees of Kurn Hattin Homes for Children. Involvement with the organization runs deep for Kelsey, who joined the Board as an incorporator some 25 years ago when his stepmother, Pat Kelsey, was a member of the Board. He was officially sworn in at the 117th Annual Meeting at the end of September.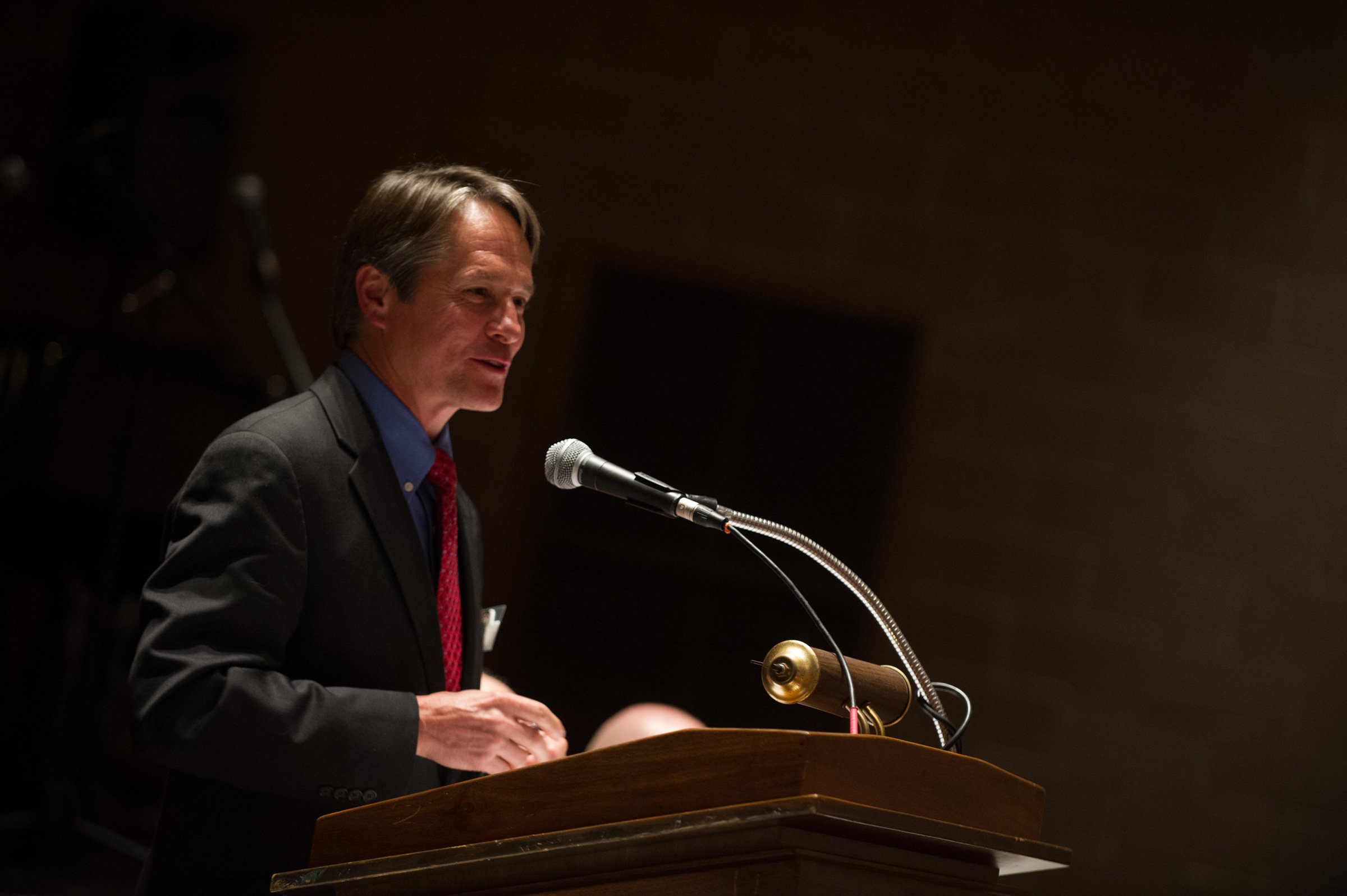 Charles Kelsey addresses the Board of Trustees at the 117th Annual Meeting, Sept. 26, 2012
Connie Sanderson, Kurn Hattin's Acting Executive Director and Director of Development for the past 25 years, says, "Charlie Kelsey brings a new way of thinking to Kurn Hattin Homes. His vision is broad and diverse. He keeps the future success of the organization in front of him at all times, and his efforts and dedication are felt by all who come in contact with him."
As immediate goals for the Board, Kelsey cites the mounting need for expanded social services in the region, as well as the need to secure financial sustainability for the long-term future.
The following excerpts are from an interview with Charles Kelsey on November 9, 2012:
JS: How did you become involved with Kurn Hattin?
CK: It was through my stepmother, Pat Kelsey, who was involved on many levels over the years and was Board President from 1997-2000. For me, I saw it as an opportunity to give back. Having lost my own mother at a young age, with three siblings, it was challenging. I've always held a strong compassion for the needs of those less fortunate. What Kurn Hattin does—it provides comfort, security, and care to those who are in deep need of some better place. To be a part of an organization that tries to transform children to a better place, it's very worthwhile. I think that's at the heart of why all us of here are involved, to be a part of improving people's lives.
JS: What do you see as the immediate goals for the board?
CK: A primary goal is to be able to adapt our services in a way that meets the increasingly urgent needs of children and families. The societal issues we face today are acute, dramatic, and traumatic – certainly in the Northeast, and in the world. Kurn Hattin is directly impacted by those trends. The real heroes are the staff who do the work here. They are incredible human beings. We may not talk about it much, and the trauma of some of the children's upbringing is often invisible, but it has scarred them for life. So in trying to undo some of that, we have houseparents, teachers, and staff dealing with the tears, frustrations, and reactions in a way that is incredible. It's the fundamental responsibility of the Board to ensure that the staff here have the resources they need to do the work that is so challenging at times, but so worthwhile and impactful.
JS: What are some other priorities for the organization?
CK: The second goal is to provide an economic direction that will allow Kurn Hattin to sustain itself forever— in perpetuity. This organization needs to go on existing in order to service those needs, to provide access to as many as we can, and to continue to make a difference in children's and their families' lives forever. Kurn Hattin is in its 118th year of service. It has benefitted from the remarkable generosity of the individuals who have been, and who are, a part of it. As a very viable,well-managed non-profit, Kurn Hattin is a national leader in what we do, and fortunate to be made so by that generosity. The condition of the financial markets in recent years has impacted the reserve funds we rely upon to support the needs of the children. We need to position ourselves to be able to provide these services that are so vitally needed. There is some big work ahead to help secure things for all the future generations Kurn Hattin will serve.
JS: What would you say to people who may want to get involved?
CK: I invite people to learn more about Kurn Hattin, to come and visit, experience it, and participate in it in whatever way that feels right for them. I think every one of us has an obligation to give back in whatever way we can. Giving money is just one part of that. There's also time, expertise, talent… Those things combined enable an organization like this to do such important work.
Join Kurn Hattin's legacy of caring for children.