New Faces at Kurn Hattin Homes
August 29, 2011 | Westminster-The new school year is underway at Kurn Hattin and new faces abound, including Scott Tabachnick, the new Principal and Karen Lansberry, not a new face, but in a new role as Director of Residential Services.
Scott Tabachnick, formerly the Brattleboro Area Middle School Assistant Principal, has taken the reins from outgoing Kurn Hattin Director of Educational and Residential Services, Thomas Fahner, who will become the new Executive Director in July 2012. The transition is very exciting for everyone.
"Kurn Hattin is a special place and everyone who works here help to create an atmosphere of community," Principal Tabachnick explains emphatically. "There's a strong trust in the leadership. The children are kept busy, they're fun, interesting and interested. They really know what's expected of them. I've been spending time observing the teachers engage the children. They're all very experienced and know what they're doing. The student body is diverse and class discussions benefit greatly because of this. I think it's wonderful that the teachers and staff really get to know the children from their participation in school, extracurricular activities and their home cottage lives. We're all here for the same reason-the children. I just love it."

Scott works hand in hand with Karen Lansberry, the new Director of Residential Services and finds her to be a great role model. "She is an incredible administrator," he admits. "Everything she does, she does out of love." Karen started working at Kurn Hattin in 2000 as a houseparent for the oldest girls. And then in 2007, she became an Assistant Residential Director. She is also taking an on-line Master's Program in Organizational Leadership. How gratuitous that she was the one chosen to take this role. She really was the perfect choice. "I'm enjoying working closely with Scott and everything we do is a team effort," Karen says. "All of the teachers, houseparents, kitchen and wellness center staff – all of us – are a combined force in the best interest of the children. We work hard to keep the activities and communication amongst us fluid. We're working on programs, efficiency, communication, and improved documentation. We're looking at what we have and how to make it better. We work hard to meet the needs of the children in our care. It really does take a village to raise a child. An exercise I had recently for school had me thinking about why I like working here so much. What we do is such a signature experience. Kurn Hattin is so unique. We provide way s for kids to be successful. Those who have never had the chance to enjoy childhood – We provide that for them. They experience skiing, farming, horseback riding and swimming in the ocean. How many children do you know who get to play music at Rockefeller Center in New York City? We enhance both the children and their families' lives. The staff is A+. Everyone goes above and beyond. I'm so proud of our staff and proud to say I work at Kurn Hattin Homes."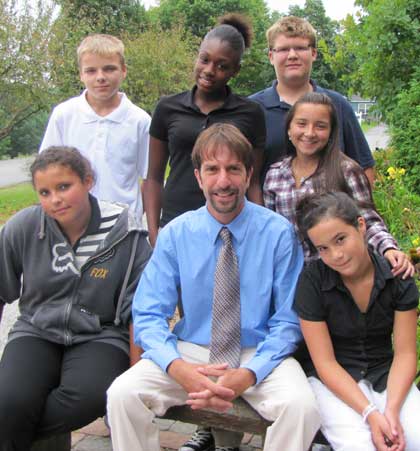 Photo Caption: Scott Tabachnick
Photo Caption: Karen Lansberry
Kurn Hattin is a charitable, year-round, residential home and school for in-need and at- risk children, ages 6-15, from throughout the Northeast. Do you know of a child who would benefit from being at Kurn Hattin Homes? We have an ongoing enrollment policy; applications are accepted throughout the school year. We invite you to come visit our campus or contact us to schedule a time to meet in your local community. Please call the admissions office at 802-721-6932 or email Sue Kessler.