Nine Honored for Dedication to Children
As the weather heats up and the school year comes to a close, Service Awards were given to the staff at Kurn Hattin Homes for Children who have spent a significant number of years dedicated to helping transform the lives of children. At the May All Staff Meeting, Executive Director Steve Harrison welcomed all employees of the non-profit home for children, reminding everyone of the tremendous impact Kurn Hattin Homes has in the lives of children and their families.
Honored staff received a commemoration plaque and were recognized in the following order: Jennifer Leonard (Assistant Music Director) and Kathleen Allen (Lead Counselor) for 5 years of service, Sonja Fullam (Executive Assistant) for 10 years of service, Jennifer Tallman (Elementary Teacher) for 20 years of service, Mary Jo Dansereau (Assistant Residential Director) for 25 years of service, Real Bazin (Farm and Fleet Director) and Carol Bazin (Assistant Residential Director) for 30 years of service, and Richard Long (Social Studies Teacher) for an amazing 35 years of service. Also honored was Kathleen Gurney (Senior Accountant), who received the "Above and Beyond" Award for her commitment to helping others.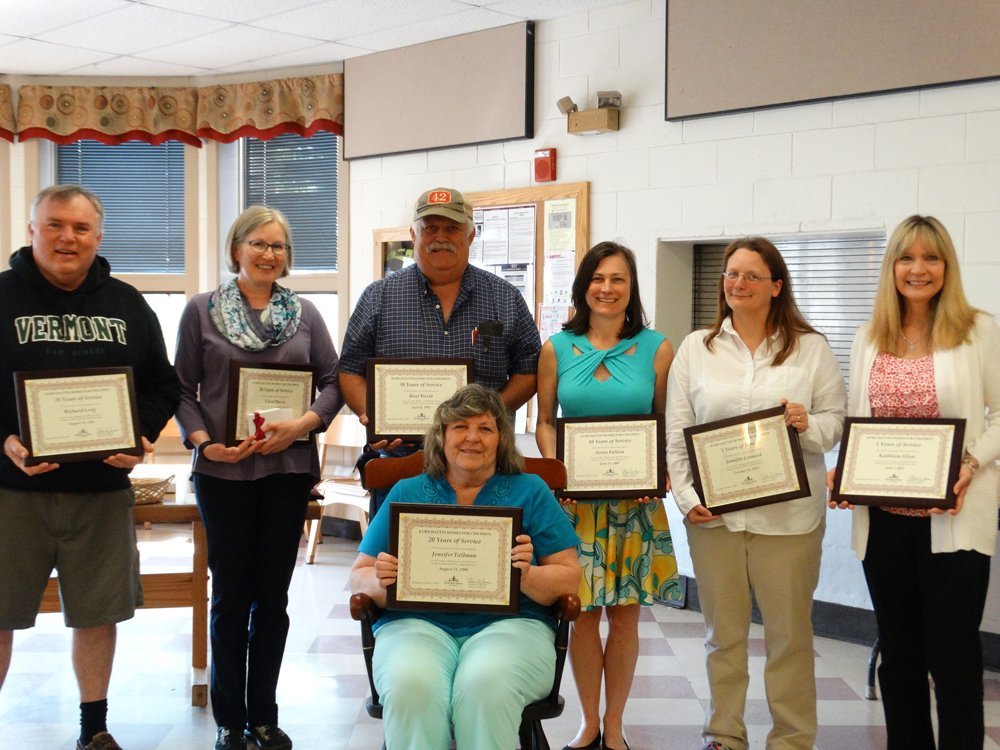 Photo Caption: Kurn Hattin Homes Service Award Recipients from left: Richard Long, Carol Bazin, Real Bazin, Jennifer Tallman (sitting), Sonja Fullam, Jennifer Leonard, and Kathleen Allen.