Nine Kurn Hattin Homes' Staff Honored with Years of Service Awards
April 24, 2019
It takes a village to transform the lives the children and this year nine staff members were recognized for their dedication, hard work, and many years of service. Steve Harrison, Executive Director of Kurn Hattin Homes honored these individuals with Service Awards during the April 24th, All Staff Meeting.
Staff members receiving five-year awards were: Kathleen Gurney, Senior Accountant, Virginia (Ginger) Cook, Houseparent, and Doug Brackett, Maintenance. Fifteen-year awards were given to Leah Gordon, Counselor, Melanie Atkin, Cook, Robert Anderson, Houseparent, and Eileen Brown, Director of Health Services. The twenty-year award was given to Leonard Farrar, Director of Maintenance and a thirty-year award went to Kirk Hemelberg, Computer Resource Manager.
Kathleen Gurney also received the "Above and Beyond" Award for her continued commitment to helping others. Steve Harrison praised all the Kurn Hattin staff for their dedication and commitment, and in particular acknowledged the Houseparents and entire Residential Services community for "the caring and secure environment" they provide the children in their care.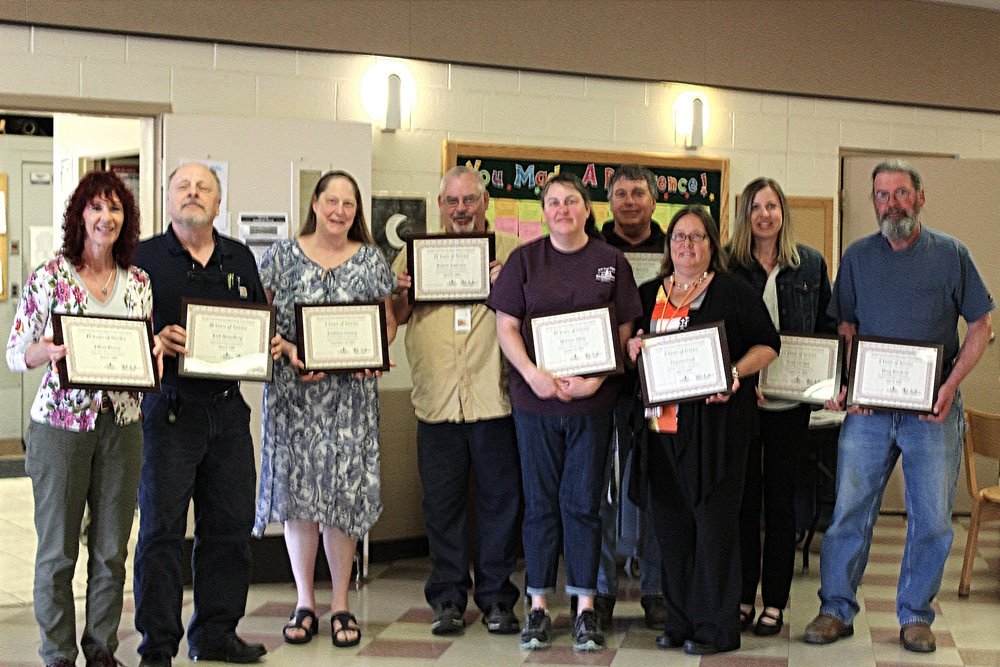 Photo Caption: Kurn Hattin Homes Service Award Recipients from left: Eileen Brown, Kirk Hemelberg, Kathleen Gurney, Robert Anderson, Melanie Atkin, Leonard Farrar, Ginger Cook, Leah Gordon, and Doug Brackett