April 20, 2011 | Westminster, Vermont– Christopher Barry, Executive Director of Kurn Hattin Homes honored the hard-working and dedicated staff at Kurn Hattin Homes with Service Awards during the April 6th, All Staff Meeting.
Staff members receiving five-year awards were: Clint Plante, Houseparent, Donna Fahner, Recreational Instructor, Houseparent and, Jenn Jacobs, Counseling Director. A ten-year award was given to Marilyn Kimball, Cook. Fifteen year awards were given to Sue Kessler, Admissions Director and Sally Mundell, Librarian. A twenty-year award was given to Karen Rumrill, Houseparent. Twenty-five year awards went to Julie Smith, Teacher and Lisa Bianconi, Music Director.
All the honored staff received a framed certificate of appreciation and an extra paid day off to use in the new fiscal year. The twenty-year honoree also received a Kurn Hattin rocking chair. Chris Barry ended the award ceremony with his praises to all the staff for their dedication to children and the mission of Kurn Hattin Homes.
Kurn Hattin Homes is a residential, charitable, year-round home and school for in-need and at-risk children, ages 6-15, from throughout the Northeast.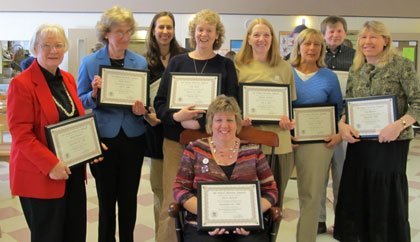 Photo caption:
The 2011 Kurn Hattin staff celebrated for reaching benchmark years of service. Seated in rocking chair is Karen Rumrill. Left to right are Sally Mundell, Sue Kessler, Jenn Jacobs, Julie Smith, Marilyn Kimball, Donna Fahner, Clint Plante and Lisa Bianconi.