By HOWARD WEISS-TISMAN Reformer Staff 05/04/2011
Reprinted with permission from the Brattleboro Reformer
Lyssa Jackson knows it is impossible to put a price on grace.
She knows there are teenagers out there who have been a little less lucky than her and who have not been given the chance to build a better life out of the all-toooften unfair circumstances that so many of her peers struggle with everyday.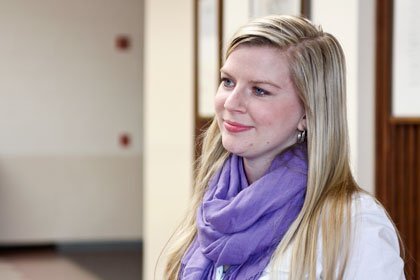 Mental illness. Poverty. Abuse.
At 17 years old, Jackson has already had her share of challenges, and she admits that when someone extends a hand and offers you a way out you can spend a lifetime trying to repay that mercy.
So when she returned back to the Kurn Hattin campus Tuesday to present a $5,316 check that she helped raise, it was not an attempt to compensate for all she received from the residential school for children at risk.
It was merely a down payment, she said, on a lifetime she hopes to spend making the world a better place for everybody.
"I can never fully repay Kurn Hattin for what they gave me, because what they gave me goes beyond value," she said Tuesday, after presenting the money to a school administrator. "Kurn Hattin didn't turn me into the person I am, but it allowed me to become the person I knew I could be."
Jackson is the first Kurn Hattin Homes graduate to receive a full scholarship to the Putney School, where she is now finishing her junior year.
The money she gave to Kurn Hattin was raised during the Putney School's second annual community work day. The students voted to give the money to Kurn Hattin Homes after learning about Jackson's past and the four years she spent at the Westminster school.
A difficult childhood
Jackson grew up in Rochester, N.H., a town near the seacoast. Her father was largely absent during her childhood and her mother suffered from mental illness.
While growing up, she said, she never felt sorry for herself, or blamed anyone else for her unfair and difficult upbringing.
But at the same time, she committed herself to growing and learning and finding success.
When she was 9, her father died.
Her grandfather also died around the same time, allowing her grandmother, who was caring for him, to become Jackson's guardian. With all of the family trauma taking place, her mother's mental illness grew more severe and Jackson and her family started looking for other places to go to school.
When the then-fourth grader heard about Kurn Hattin Homes in Westminster, she applied, seeing it as a chance to climb out of what had been a very challenging home life.
"After my grandfather died, my mother fell into a very deep funk and she was not able to take care of me," Jackson said. "I was expected to do a lot. My life was never scary, but it was difficult."
She entered Kurn Hattin as a fifth-grade student in the fall of 2004. Jackson spent the next four years at Kurn Hattin, and looking back on that time now, she said the experience changed her life.
She went from an abusive home life, where as an elementary-aged student, she was expected to run the household, to the Kurn Hattin campus.
"I love this place," she said Tuesday, sitting on a bench and looking out over the dorms where she lived until eighth grade. "A lot of kids who come here are angry because they are being taken from their parents but I have always felt so lucky to be able to go to school here."
Earlier in the day, Jackson gave the check to Tom Fahner, Kurn Hattin director of educational and residential services.
Fahner said it is not unusual to accept money from former Kurn Hattin students.
The school relies on Kurn Hattin alumni to donate to the residential home.
But Fahner admitted that it was a welcome surprise to have a former student give so much money just a few years after leaving the Westminster campus.
"It is not unexpected to get back from alumni, but to get this while she is a junior in high school is another thing," Fahner said. "It reflects on the type of person she is, and it makes us very proud."
A little different
On April 16, about 180 Putney School students took part in the community work day. They worked at homes around the Putney area, raking leaves, doing yard work and completing other tasks, and all of the money they raised was put into the community work day fund.
Last year, which was the first year Putney School held the event, the students raised $6,500 on the work day, another $1,000 at a student art sale, and all of the funds were donated to Haiti relief efforts.
The Haiti earthquake inspired the Putney School students to hold the community work event to raise money and they decided to start a new tradition and scheduled a second work day in the spring.
This year, when the students were deciding where to send the money, Jackson made the case to keep the money more local.
Earlier this year, Jackson gave a school-wide presentation on the work that is done at Kurn Hattin.
"I am in a much different boat than most of the kids at Putney School," she said about her decision to make her past public. "When you meet someone new and have to tell them where you grew up and what your parents do, it's hard to explain. My parents were not lawyers or doctors. My life has been a little different."
She gave the PowerPoint presentation to the school community, detailing her family life and the life lessons she learned while at Kurn Hattin.
Later in the year, when the students were deciding what to do with the community work day money, some wanted to send it to Haiti or Africa, or to another nationwide nonprofit.
Lyssa made the case to instead drive it right up Route 5 to Kurn Hattin, and when a vote was held, it was almost unanimously decided to give all of the money to Kurn Hattin.
Natalie Silver, a Putney School junior, who was at the meeting when the students decided what to do with the money, originally wanted to send it to Haiti relief efforts.
Silver lives in the same dorm as Jackson, but she didn't know about her experiences at Kurn Hattin before the presentation.
"I originally wanted to do another Haiti work day because they can always use more help," Silver said Tuesday. "When she presented the possibility of doing a Kurn Hattin work day, I think people wanted to support Kurn Hattin because, in a way, we'd also be supporting Lyssa. I had seen how much Kurn Hattin had changed her life and how much she wanted to help the kids who are there now. Kurn Hattin is just down the road, and that's also a really cool part about it."
Jackson heard about the Putney School and applied during her final year at Kurn Hattin.
Putney School Communications Director Don Cuerdon said Jackson's application impressed the admissions department and she won a full scholarship to the Putney School.
About 60 percent of the students receive some financial aid to attend the private high school, but Cuerdon said very few students get a full, four-year scholarship.
"The Putney School accepted Lyssa because she is brilliant, interviewed like a champion, held leadership positions at Kurn Hattin, had won a national essay contest and felt she had the confidence to handle the work load here," Cuerdon said. "We're fortunate to have her here."
Like just about any other high school junior who is thinking about college, Jackson has some thoughts about what she wants to do, but she has no concrete plans.
If she finishes college, she will be the first in her family to do so. She said it is hard to imagine where she would be today if she had not applied to Kurn Hattin.
She probably would not be at the Putney School and there is a chance she would not be weighing her choices between small liberal arts colleges and universities.
Wherever she ends up, Jackson she said she wants to help other people remember about the choices that are out there.
"I'm willing to tell my story to anyone who will listen," she said, just before heading back to the Putney School for afternoon classes.
"It's not just my story, there are a lot of other kids like me who are capable of doing amazing things."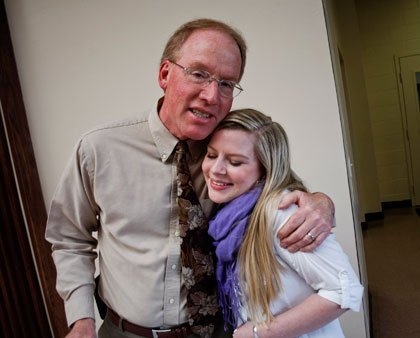 Tom Fahner, Director of Educational and Residential Services, hugs Putney School Student Lyssa Jackson who led an effort to raise money for Kurn Hattin Homes, from which she is an alumni.
(Photos: Zachary P. Stephens/Reformer)
Kurn Hattin Homes is a residential, year-round, charitable home and school for in-need and at-risk children, ages 6-15, from throughout the Northeast.