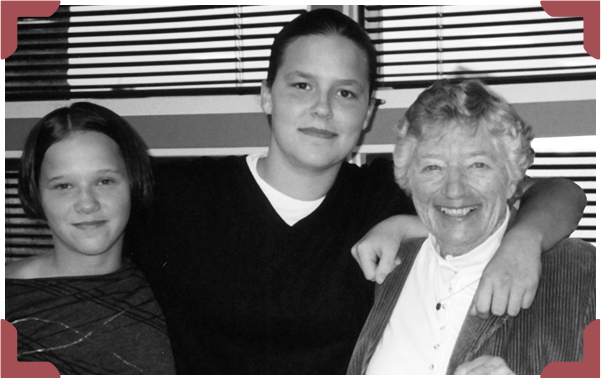 Patricia "Pat" Driggs Kelsey, a longtime friend and supporter of the Homes, and Board President from 1997-2000, died Saturday, August 30 at the age of 91 at her home in New London, New Hampshire.
Pat was born August 2, 1923, in Philadelphia, PA. She earned a bachelor's degree in physical education from Russell Sage College in 1945, and went on to teach Physical Education and coach field hockey at Colby-Sawyer College in New London, New Hampshire.
An avid golfer, Pat won the New Hampshire women's amateur golf championship in 1955, 1956 and 1958. In 1974, she married the late Lt. Col. Robert "Bob" Pratty Kelsey Jr., a decorated WWII veteran.
Together Pat and Bob joined forces in many public service endeavors and offered generous philanthropic support to various charities and organizations over the years, including The Dana Farber Cancer Institute,The Jimmy Fund, Colby-Sawyer College, and of course, Kurn Hattin Homes for Children. In addition, Pat served as chair of the New London Recreation Commission and was active with the New London Garden Club. She was a member of the First Baptist Church, New London, N.H.
Of the many legacies she left to various organizations, including Kurn Hattin, one in particular lives on at the Homes in a very personal, tangible way today: Pat's stepson, Charles P. Kelsey, is the current Kurn Hattin Board President, having been inspired by his stepmother to get involved with Kurn Hattin as an incorporator 25 years ago.
Kurn Hattin's Executive Director, Connie Sanderson, shared these remarks in remembrance of Pat.
Of the many things I am grateful for in my Kurn Hattin career, meeting Pat will always rank at the top of the list. When I became employed at Kurn Hattin Homes in 1988, Pat was a steady friend and ally and remained so until my last visit with her on July 19th. For those of you who knew her well, wherever Pat was, fun followed. When she became President of the Kurn Hattin Board, the first thing she did was shake up our Annual Meeting format, exclaiming, "Where are the kids?" And you can bet they were included from then on!
Pat was a treasured friend and colleague, and I will miss her always. Her impact at Kurn Hattin Homes will live on forever. She lived a rich and unique life, and I am thrilled to have been part of it.
Pat is survived by her son, Eric H. McGahey; her daughter Lynn E. McGahey; her stepson Charles P. Kelsey and her stepdaughters Deborah Kelsey Watts, Dabney Kelsey Hahn and Heather Kelsey Thomas.