Student Performance Propels Teacher's Literacy Initiative to New Level
WESTMINSTER, VT – The K-2nd grade teacher at Kurn Hattin Homes for children has earned national recognition for outstanding performance in advancing reading practice and proficiency. Mary Kay Pfadenhauer was awarded Accelerated Reader Model Classroom status by Renaissance learning, a Wisconsin-based education company. The program is a tool to foster the love of reading in children. Accelerated Reader Model Classroom Certification demonstrates that a majority of Mrs. Pfadenhauer's students have met or exceeded goals for reading practice and comprehension. The program helps teachers manage and monitor children's independent reading practice. Students can pick fiction and non-fiction books at their own skill level and read at their own pace. When finished, students take a short quiz on the computer, which has a database of quizzes based on 150,000 different books. Passing the quiz is an indication that the child understood what was read. The children and teachers then receive feedback based on the results. Mrs. Pfadenhauer uses these results to help students set personal goals and direct their ongoing reading practices. The process increases their likelihood of success, and enhances their self-esteem. The positive learning experience encourages the child to continue reading and learning, giving them a wider breadth of knowledge over time.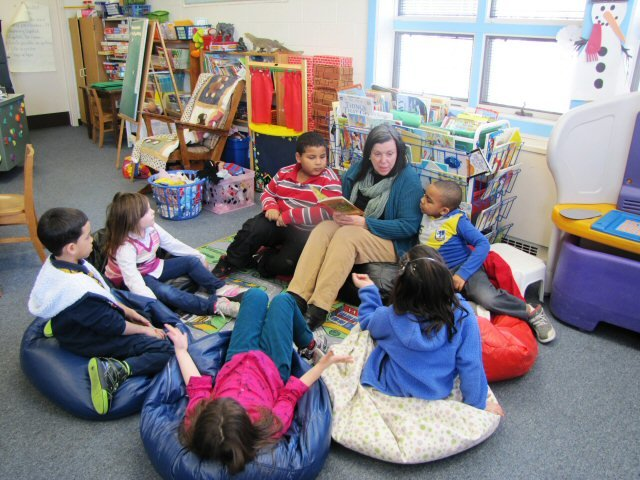 Photo Caption: Kurn Hattin teacher Mary Kay Pfadenhauer engages her students in a group reading exercise. On her right, in the striped shirt, sits exemplary reader Dre-Shawn Charbonneau.
The program, part of a larger Literacy Initiative implemented by Pfadenhauer and the teaching staff, includes intensive instruction for older students who had fallen behind before coming to Kurn Hattin. The class meets daily to study phonics and vocabulary through computer assisted technology and classroom instruction. According to Principal Scott Tabachnick, it was Mrs. Pfadenhauer's passion to advance the organization's mission to "transform the lives of children and their families forever" that motivated her. "We are so proud of her and the children. Reading and comprehension at the early stages now are so essential for college and career readiness later on. We can't begin to tell you how fortunate we feel to have her here."
Mrs. Pfadenhauer has been an elementary school teacher for 40 years, but considers the initiative to be a crowning achievement. She has been teaching the youngest children, a combined class of kindergarten through second grade, since 1974. Mrs. Pfadenhauer credits the advancement of the Accelerated Reader program in particular to an exemplary student in her class, top reader, Dre-Shawn Cherbonneau. "Dre elevated us all to a whole new level," she explains emphatically. "He just loves to read, he can't get enough of it. This is all because of him."
"Dre and the other children are so proud of their work," Mrs. Pfadenhauer notes happily. "They come to class every day with a smile on their faces and ready to learn. I think one of the greatest gifts we have given to these kids is the gift of literacy."
Established in 1894, Kurn Hattin Homes for Children in Westminster, Vermont is a charitable, year-round home and school for boys and girls, ages 6-15, who are affected by tragedy and social or economic hardship. Kurn Hattin Homes transforms the lives of children and their families forever.