Students Kick Off Sugaring Season at Kurn Hattin Homes for Children
Who: Students in grades K-8 at Kurn Hattin Homes for Children
Where: Kurn Hattin's 123-acre farm in Westminster, VT
What: Every February for the past 120 years, the children at Kurn Hattin Homes have taken part in the Vermont tradition of maple sugaring on the Kurn Hattin farm. For many students who have come from urban areas, helping on the farm is their first exposure to agriculture and the farm-to-table experience. Guided by Farm Manager Pat Barry and their science teachers, students assist with every aspect of the sugaring process, from tapping trees and gathering sap, to running the evaporator, to bottling the syrup. As reward for their hard work, the kids enjoy the finished product at breakfast time in the Kurn Hattin cafeteria.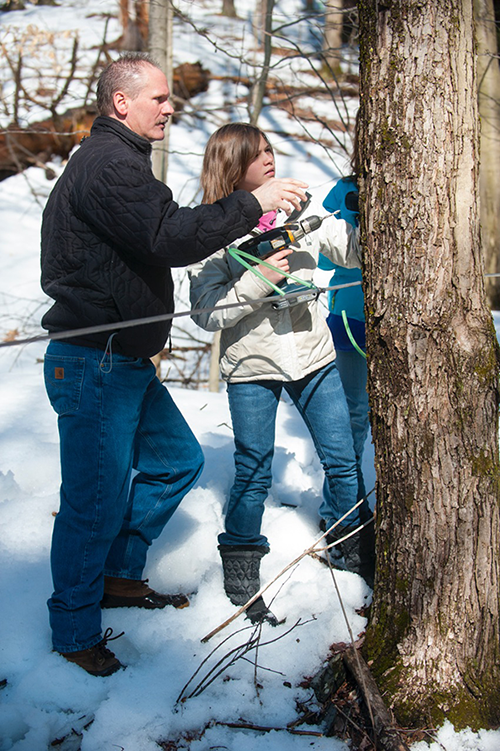 (Photo: Science teacher Tom Fontaine helps a student with tapping a sugar maple on the Kurn Hattin farm)
The following are upcoming 2014 Farm Week events and activities:
Monday 2/24 – Friday 2/28: Sugaring Season Kick-off – As part of students' science classes, Farm Manager Patrick Barry gives students an overview of the sugaring process. Then throughout the week, Pat guides groups of students to check lines and taps out in the maple grove.
Monday 3/3-Friday 3/7: Sugaring – The Kurn Hattin sugar house will be in full production all week long. All students (in small groups) have an opportunity to participate in running the evaporator and assist in the boiling process.
Credentialed media are invited to attend and photograph any of the events above. Contact Jaimie Scanlon for further details on the schedule at jaimie@raptcreative.com
A place of hope since 1894, Kurn Hattin Homes for Children provides a safe home and quality education for boys and girls, ages 6-15, whose families are experiencing a time of personal or financial need. Kurn Hattin Homes is entirely funded by private donations. Its mission: Kurn Hattin Homes transforms the lives of children and their families forever.