Sugaring at Kurn Hattin Homes
March 5, 2012 | Westminster, Vermont – Kurn Hattin staff member, Real Bazin taps trees (over 700 taps), gathers wood, boils sap and explains the art of sugaring with the Kurn Hattin children every year during maple sugaring season.
Maple sugaring has been an annual activity at Kurn Hattin since its founding in 1894. The weather has allowed them to boil four times already and it's just the first week of March. The children are always interested to learn the ratio of gallons of sap to syrup (40:1), the density of the sugar (67%) and to observe the evaporation process. And of course, to sample the syrup when it's cooled, is much anticipated every year. The early season, first-run sap produces the subtle flavored, light colored, Fancy Grade syrup. We don't always have the opportunity to make the Fancy, so it's always a treat. Weather permitting; the students will continue sugaring throughout the month of March.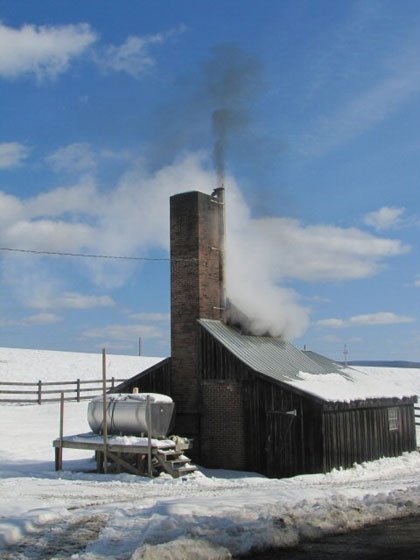 Photo caption: Kurn Hattin students observing the sugaring boiling process in the Kurn Hattin sugar house with their instructor, Real Bazin
Kurn Hattin Homes is a year-round, charitable home and school for in-need and at-risk boys and girls, ages 6-15, from throughout the northeast.
Contact: Kim Fine
Kurn Hattin Homes
PO Box 127
Westminster, VT 05158
Tel: (802) 721-6914