Boil down the sweet sap which the spring causes to flow within you -Stop not at syrup; go on to sugar… Henry David Thoreau

Two tall sugar maples stand side by side on a snowy Vermont hillside. Their roots run deep, intersecting and intertwining. They have grown here together for years, providing shade and shelter, weathering the changing seasons, and soaking in the rain and sun that have ripened them with wisdom and sweet potential.
Like the sap that flows inside the sugar maple, some people just seem to have Kurn Hattin Homes in their veins. Connie Sanderson and Tom Fahner, the newly appointed Co-executive Directors of Kurn Hattin Homes for Children, are two such people. Together Tom and Connie have garnered nearly half a century of combined experience serving underprivileged children whose families are experiencing a time of personal or financial need. The pair has spent more than two decades working and growing together on this hillside in Westminster, Vermont, literally living and breathing Kurn Hattin's mission of transforming the lives of these children and their families forever.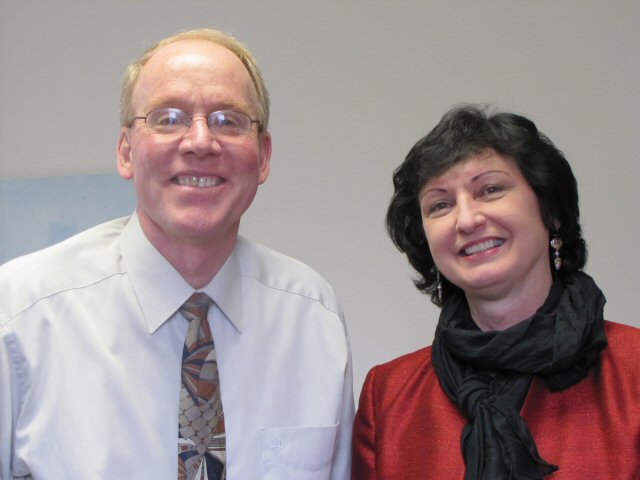 To most in the Kurn Hattin community, Connie and Tom need little introduction. Each of them has already made many significant positive contributions to this Vermont children's charity in their respective previous leadership roles, Connie as Director of Development and Public Relations for the past 25 years, and Tom as Director of Residential and Educational Services for the past 20.
Now in their new shared role as Co-executive Directors, their collective wealth of expertise is being tapped to the fullest. Since January 11, they have been sharing Kurn Hattin's top administrative duties, with Connie overseeing Business Operations and Institutional Advancement and Tom as head of Residential and Academic Life.
The shared leadership model is a new leaf for Kurn Hattin, which in previous years has run under one Executive Director. To their new responsibilities, Connie and Tom bring not only their individual strengths and experience, but also a deep mutual respect, a collaborative spirit, and a shared understanding of what really matters at Kurn Hattin—the children and their families.
Sitting in Connie's office between meetings on a mid-February afternoon, there's a collegial ease and comfort as she and Tom share what makes their professional relationship work so well, why two heads are better than one, and what kind of legacy they each hope to leave Kurn Hattin Homes. The following are various excerpts from the conversation.
On shared roots and common traits
Tom: Both being transplants to Vermont from Long Island, we share a common childhood culture that carries through in our professional relationship. There's always been something grounding in that, even from early on when we started working together.

Connie: We do both pick up on the same things in our Long Island way, and we have that understanding of each other's sense of humor. We're both fast-moving, high- energy people, and we're confident and thoughtful about the decisions we make. We also share our deep appreciation for Vermont.
On working and growing together
Tom: Our working relationship is very positive, professional, and collaborative. And it's fun, too. Even when we agree to disagree, we always figure out a way that works. We know each other's strengths. When one of us has an area where we need to grow, we can rely on the other person to help fill that void.
Connie: We have a lot of respect for each other's opinions. Often when I'm working out an issue, I really need to see what Tom thinks about it.
On why two heads are better than one
Tom: When we need to make decisions, it's reassuring to have another person to go to. We can bounce things off each other, discuss ideas, and look at things from a different angle.
Connie: Working together, Tom and I will be able to work more intensively and effectively to get things done. We really get to put our whole heart and soul into the areas that we are overseeing.
Connie on Tom
Tom is incredibly passionate about the children and their success.That is something I have been in awe of from the moment he came to work here. They know it and they love him for it. You can see it when they're with him. It's a beautiful sight.
Tom on Connie
Connie has tremendous passion for this place and for the mission. Not only is she extremely dedicated and talented at what she does, she also brings a fun flavor to the job. I think that's why she's so successful. She's also incredibly knowledgeable about our history; nobody knows Kurn Hattin history like Connie.
On leaving a legacy
Tom: I'd like to be recognized for the fact that we've met the challenges of societal changes as they came about. Change is a good thing. We need to continually adjust our methodology and our approaches to provide the best, most caring, nurturing environment we can for the children. If I can be remembered for that I'd be very happy.
Connie: I want to help preserve Kurn Hattin for another hundred years. I want stability, sustainability, and security for many more generations of children. Tom and I both feel a huge responsibility to ensure that many more generations of children will be at Kurn Hattin because of what we did now.

Side by side, weathering change on a Vermont hillside with a forward-facing view that never ends.
Connie and Tom are putting their two heads together to make sure that now and forever, Kurn Hattin Homes is here to provide a safe place where children who may be suffering as a result of poverty, homelessness, abuse, or neglect can live, learn, grow, and finally and fully tap their own great potential.
Because when you boil it down, it's the kids who really matter here.