Sweet Times at Kurn Hattin Homes
Nothing quite compares to the sweet smell of bubbling maple syrup inside a sugar house! Children of all ages are able to have this classic New England experience at Kurn Hattin Homes. An even bigger treat is the sample of golden syrup that each child gets to taste after they learn about the process of maple sugaring from Director of Farm and Fleet at Kurn Hattin Real Bazin.
Of course, there is a lot of hard work that goes into maple sugaring to achieve the tasty reward at the end. The children help Assistant Farm Manager Conor Fitzgerald with the tapping of trees, collecting the sap from buckets, and even stacking wood to keep the fire under the sap evaporator going. The entire process is an excellent opportunity for science teacher Thomas Fontaine to give a hands-on lesson; the children learn tree identification, talk about how plants photosynthesize, and see chemistry in action as the sap boils down into syrup. They even experiment with the placement of the buckets on the trees (north side versus south side, east side versus west side, etc.) to find out which direction will produce the greatest amount of sap.
The children also learn about the history of maple sugaring in New England. In particular, they discuss the differences in sugaring technology from the early days of Kurn Hattin Homes to what is used now. New taps, plastic buckets backed with stainless steel, and sap lines make the process cleaner and more efficient. Despite the convenience of no longer needing to go into the woods daily to collect sap, it still takes 40 gallons to produce just one gallon of maple syrup! So far, over 25 gallons of syrup have been produced. The syrup from the farm is enjoyed all year long in delicious meals prepared by the Kurn Hattin kitchen.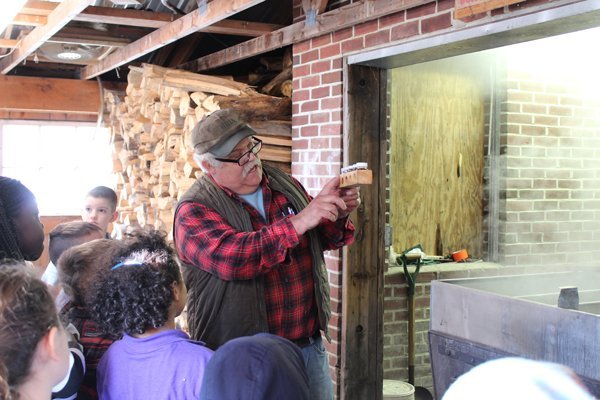 Director of Farm and Fleet Real Bazin explains the sugaring process to the children at Kurn Hattin Homes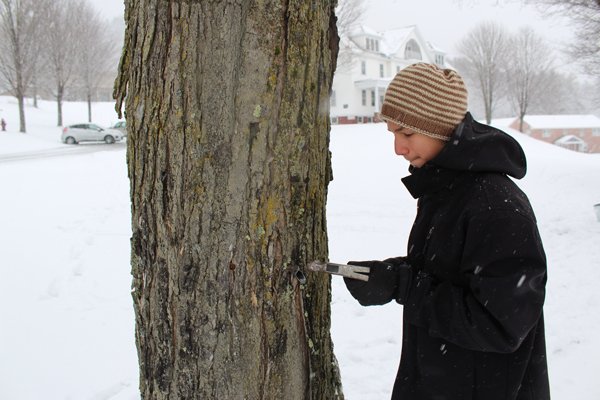 Seventh-grader Jacob Baltazar works hard during last week's snowstorm to tap a maple tree. Photo taken by Thomas Fontaine.