Swinging At Kurn Hattin's Annual Jazz Invitational
April 11, 2012 | Westminster, Vermont – On April 11, jazz bands from five local schools and the Keene Jazz Orchestra had heads and toes swaying at the Annual Kurn Hattin Jazz Invitational.
Admission to the concert was free with canned goods collected by the Kurn Hattin Student Council for donation to the food shelf at Our Place in Bellows Falls. Larry Wunderle of Our Place thanked the audience for their generosity. The schools participating were Brattleboro Area Middle School, Bellows Falls Union High School, Claremont Middle School, Vermont Academy, and the Kurn Hattin School. Special guests were the Keene Jazz Orchestra. Tenor saxophonist, Scott Mullett, who is an alumnus of many world-class touring bands, including Woody Herman and Artie Shaw, leads the Keene Jazz Orchestra. Scott teaches privately, plays throughout New England, and is adjunct faculty member at Keene State College. Master of Ceremonies was Eugene Uman, Artistic Director of the Vermont Jazz Center. Eugene kept the audience engaged between ensembles with musical fact and rhythms. Music in schools is so important. Children grow with the endless possibilities of improvisation and creativity. The skills of improvisation can apply to many different abilities and forms of communication and expression. Thanks to all the participating ensembles, directors, staff, volunteers and community for supporting music in our schools.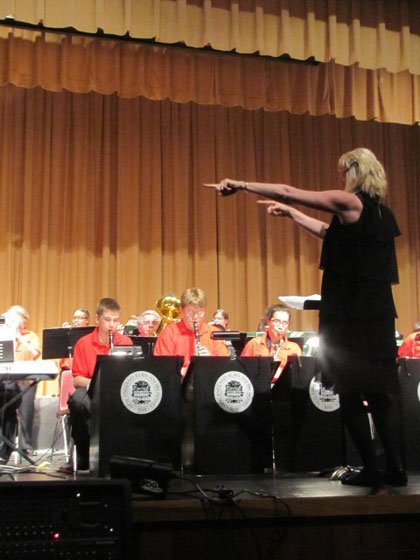 Pictured is Kurn Hattin Music Director, Lisa Bianconi directing the Kurn Hattin Jazz Band.
Kurn Hattin Homes is a year-round, charitable home and school for in-need and at-risk boys and girls, ages 6-15, from throughout the northeast.
Contact: Kim Fine
Kurn Hattin Homes
PO Box 127
Westminster, VT 05158
Tel: (802) 721-6914