Teaching Children Healthy Choices for Red Ribbon Week
WESTMINSTER, VT— The week of October 27th – 31st was bustling at Kurn Hattin Homes for Children. The week's events featured Kurn Hattin's annual celebration of national Red Ribbon Week. Faculty and students learned about healthy life choices with a strong focus on anti-bullying, drug and alcohol abuse, and safety. Students attended workshops, participated in exercises, and wrote poems and essays reflecting those themes.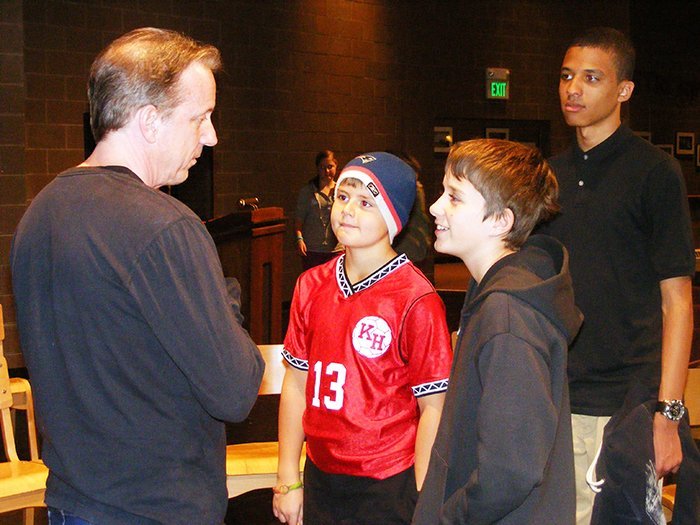 As part of the activities the children were visited by several local speakers and organizations, attending such workshops as "Tobacco Free" by Greater Falls Connections; "Bully Free" and "Addiction and Families" with Counseling Director Chris Danforth; "Alcohol and Other Drugs" by the Wellness Center staff; and "Healthy Choices". The most moving and enthralling event of the week, however, was when the children attended "Music and Wellness" workshops by Sound Engineer Pete Keppler. Keppler described with touching honesty how he was able to confront his addictions to find a path to recovery and channel his energy into music. Pete moved on to mix and manage sound for stellar artists like David Bowie, Trent Reznor, and Katy Perry.
Paula Roux of Visiting Nurse & Hospice of Vermont and New Hampshire stopped by to say thank you to the Kurn Hattin students for their participation in their Wings of Hope event, and to throw them a pizza party! The students also wrapped up harvest season on the farm and prepped for winter with by picking the last of the apple crop, and pressing fresh cider. The week concluded with the children celebrating Halloween by marching in the Westminster Halloween Parade in costume to the Kurn Hattin Jazz Band, and an appreciative audience of parents.