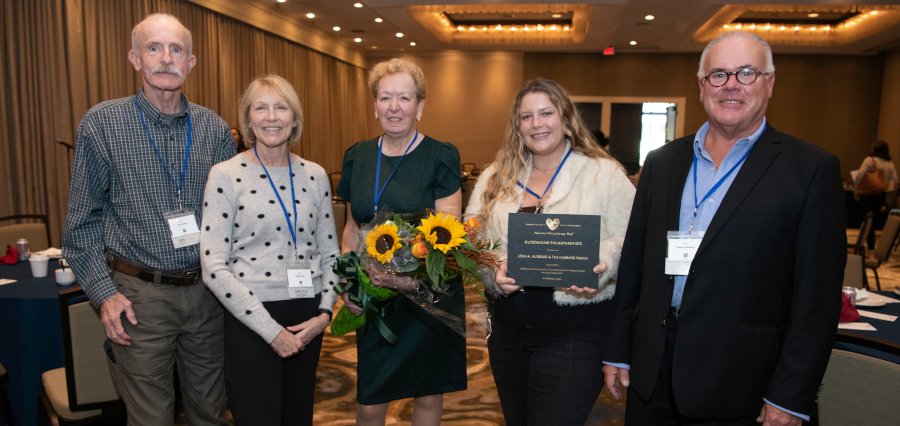 At the Association of Fundraising Professionals—Northern New England Chapter's recent National Philanthropy Day celebration at the Doubletree Hotel in Manchester, New Hampshire, John A. Hubbard and The Hubbard Family were bestowed the honor of the National Philanthropy Day, 2022 Outstanding Philanthropists award. The Award for Outstanding Philanthropist honors an individual or family with a proven record of exceptional generosity who, through direct financial support, demonstrates outstanding civic and charitable responsibility and whose generosity encourages others to take philanthropic leadership roles on a community, national, and/or international level.
The Hubbard name is well known as generations of the Hubbard family have shown selfless concern for the welfare of others and endeavored to alleviate their struggles. Over the decades, the family has assumed numerous leadership roles at dozens of charitable organizations throughout Northern New England. John A. Hubbard's leadership and philanthropy transformed organizations such as the University of New Hampshire Foundation, where he was a Founding Member; the Monadnock Conservancy, Cedarcrest Center for Children with Disabilities, Crotched Mountain School, Harris Center for Conservation Education, New Hampshire Charitable Foundation-Monadnock Region, Spaulding Youth Center, and New England Kurn Hattin Homes for Children.
This kind, quiet, and thoughtful family continue to strengthen the communities they care deeply about, constantly striving to create a better life for children, learners of all ages, and the environment. Their philanthropy has opened doors for those in need and has inspired others to give back, in whatever way they can. Accepting the award were John Hubbard's daughter and son in-law, Susan and Peter Johnson.