The Kurn Hattin Class of 2011
Kurn Hattin Has 20 More Reasons to Be Proud
June 11, 2011 | Westminster, Vermont–Saturday, June 11, 2011 was Graduation Day at Kurn Hattin Homes. It was a very important day and milestone for the 20 graduates.
After all the students were in place on the stage, the Graduation proceedings began with Executive Director, Christopher Barry welcoming everyone and congratulating the students. Reverend Father Lance W. Harlow, a long-time music program volunteer and friend who will be relocating to northern Vermont soon, gave the Invocation. He asked that we recall a young Austrian girl, before the outbreak of WWII, and how the hills where she lived later became alive with the sound of music. He continued, "We pray for our graduates today whose lives at Kurn Hattin have also been filled with the sound of music-not just instruments and singing, but the sound of teachers' voices imparting knowledge, the sound of counselors' voices guiding and healing, the sound of field trips, basketball games and dances; and the secret hopes and dreams shared with friends made here." He asked that the graduates, "Always remember this lovely hillside in Vermont; may they indeed find peace here; may they continue to grow in wisdom and knowledge as they descend this mountain; may their futures unfold with extraordinary opportunities and clarity; and may their memories of Kurn Hattin always be filled with the sound of music."
Several students received one or more prizes from the nine categories of awards which included: Academic, Cottage, Sports, the Massachusetts Board of Directors, Alumni, Music, Scholarship, and awards for showing the greatest improvement, good citizenship and the greatest aptitude in the field of agriculture to name a few. A new award this year, the Executive Director's Award, in Memory of John P. Barry, beloved Educator and Administrator, was also given.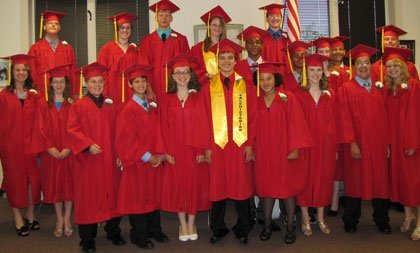 Photo caption: The Kurn Hattin Class of 2011
Dylan Conklin, Valedictorian, bid a heartfelt farewell before the presentation of diplomas by David J. Maysilles, President of the Board of Trustees and Natalie Patrick, retiring teacher after 42 years at Kurn Hattin. Dylan conveyed many feelings in his Farewell, "Kurn Hattin has taken us under its wing, and taught us how to fly. You helped us realize and become the young men and women we want to be. Our possibilities are endless. We are the future. And for that, we thank you."
To the Class of 2011: Ashley Jean Bussino, Courtney Lee Bussino, Devin John Bussino, Ethan Michael Colon, Dylan Mitchell Conklin, Jessica Elizabeth Cormia, Deionte Jason Davis, Draven Alexander Dennis, Taylor Elaine Dodge, Tyler Austin Frederick Hitt, Collin Thomas Hurst, Steven Tyler Kingsbury, Cooper Christian MacDonald Newell, Kasey Amber Olmo-Gilmore, Jordan Luis Ortiz, Samuel Curtis Paulino, Alexis Lynn Rivait, Christina Hope Nelson Sherrick, Rebecca Anne-Elizabeth Simard, Raven Marie Stanhope. We are so proud of you. Be well, do good work and stay in touch.
After graduating, many of the students will stay on campus for part of the summer in the ninth grade transition program. Then they will rejoin their families and attend their local high schools in the fall. Others will go to the Milton Hershey School in Pennsylvania, Rock Point School in Burlington and Vermont Academy in Saxtons River. Wherever they go, Kurn Hattin will always be their home.
Kurn Hattin Homes is a charitable, year-round, residential home and school serving in-need and at-risk children, ages 6-15, from throughout the Northeast. Since 1894, thousands of children have called Kurn Hattin home.