Thirteen Kurn Hattin Homes' Staff Honored with Years of Service Awards
May 7, 2012 | Westminster, Vermont – Christopher Barry, Executive Director of Kurn Hattin Homes honored the hard-working and dedicated staff at Kurn Hattin Homes with Years of Service Awards during the May 2nd, All Staff Meeting.
"Annual awards given for 5 to 30 years of service really says something about an institution," praised Christopher Barry. Staff members receiving five-year awards were: Nancy Clingan, Counselor; Sonja Fullam, Administrative Assistant Front Desk; Monica Lee, Houseparent; Martha Ruffle, Senior Accountant; and Chris Sines, Maintenance. Ten-year awards were given to Dean Kinville, '81 Houseparent; and Kristin McGee, Houseparent. Fifteen year awards were given to Dave Baldasaro, Residential and Academic Administrative Assistant; and Jennifer Tallman, Teacher. A twenty-year award was given to Mary Jo Dansereau, Houseparent. Twenty-five year awards went to Carol Bazin, Assistant Director of Residential Services; and Real Bazin, Farm and Grounds Support & Fleet Manager and a thirty-year award went to Richard Long, Teacher.
All the honored staff received a framed certificate of appreciation and an extra paid day off. The twenty-year honoree also received a Kurn Hattin rocking chair. Chris Barry ended the award ceremony with his praises to all the staff for their dedication to children and the mission of Kurn Hattin Homes.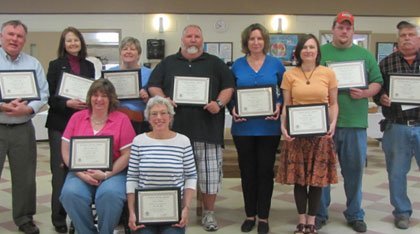 Photo caption: The thirteen 2012 Kurn Hattin staff celebrated for reaching benchmark years of service. Standing left to right are Richard Long, Martha Ruffle, Jennifer Tallman, Dean Kinville, Monica Lee, Sonja Fullam, Chris Sines, and Real Bazin. Front (l-r), Mary-Jo Dansereau and Nancy Clingan. Missing from photo are Dave Baldasaro, Kristin McGee and Carol Bazin..
Kurn Hattin Homes is a year-round, charitable home and school for in-need and at-risk boys and girls, ages 6-15, from throughout the northeast.
Contact: Kim Fine
Kurn Hattin Homes
PO Box 127
Westminster, VT 05158
Tel: (802) 721-6914