As summer comes to a close, Kurn Hattin staff prepare for the new school year. As with previous years teachers, houseparents, and other staff come together to participate in Training Week. Training Week is the only time when Kurn Hattin has no children on campus. The week long schedule begins at 8 a.m. and typically continues until 4:00 p.m.  The days are filled with presentations, discussions on safety measures and precautions, emergency drills, and training for counselors. Outside professional join the staff in discussions regarding the care and emotional healing of the children, using Restorative Practices methods.
One afternoon during Training Week is dedicated to an All Staff Meeting which began this year with a lunch, followed by welcome remarks by Steve Harrison, Kurn Hattin's Executive Director. "It's an honor to care for the children that parents have entrusted to us to…and we all need to live up to that trust," he remarked. Next on the agenda were new staff introductions, which included several new Residential Life members and recognizing Sue Kessler, previously Director of Admissions, who was recently promoted to the position of Assistant Executive Director. Plans for the upcoming 125thAnniversary Fall Festival Celebration, on September 21, were discussed, as were updates to our Community Handbook and PBiS (Positive Behavioral interventions and Support) practices at the school. "We are excited to be entering our 3rd year as a formally recognized PBiS School," said Sergio Sergio Simunovic, School Principal. "PBiS is normally thought of as behavior, conduct, and a method of problem solving. But above all else, PBiS is another way to approach community where students, faculty, and staff feel as a part of something." Keri Newton, Dean of Students, was proud to announce that Kurn Hattin was being recognized as a VTPBIS School of Merit, which means PBiS is used as a school-wide evaluation tool by at least 80% of the staff (95% at Kurn Hattin) with improving outcomes for the majority of students.
Before continuing with the final portion of the agenda, there were games with prizes. And Jacob Stoddard, in Maintenance, was awarded with the Above and Beyond Award, for doing just that.
The afternoon ended with remarks by Board of Trustees President, Mark Bodin, and a Q&A with the Leadership Panel, consisting of Board President, Mark Bodin and Trustees Chris Hackett and Jim Lynch, Executive Director Steve Harrison and Assistant Executive Director Sue Kessler.
We all are now ready to welcome our students return.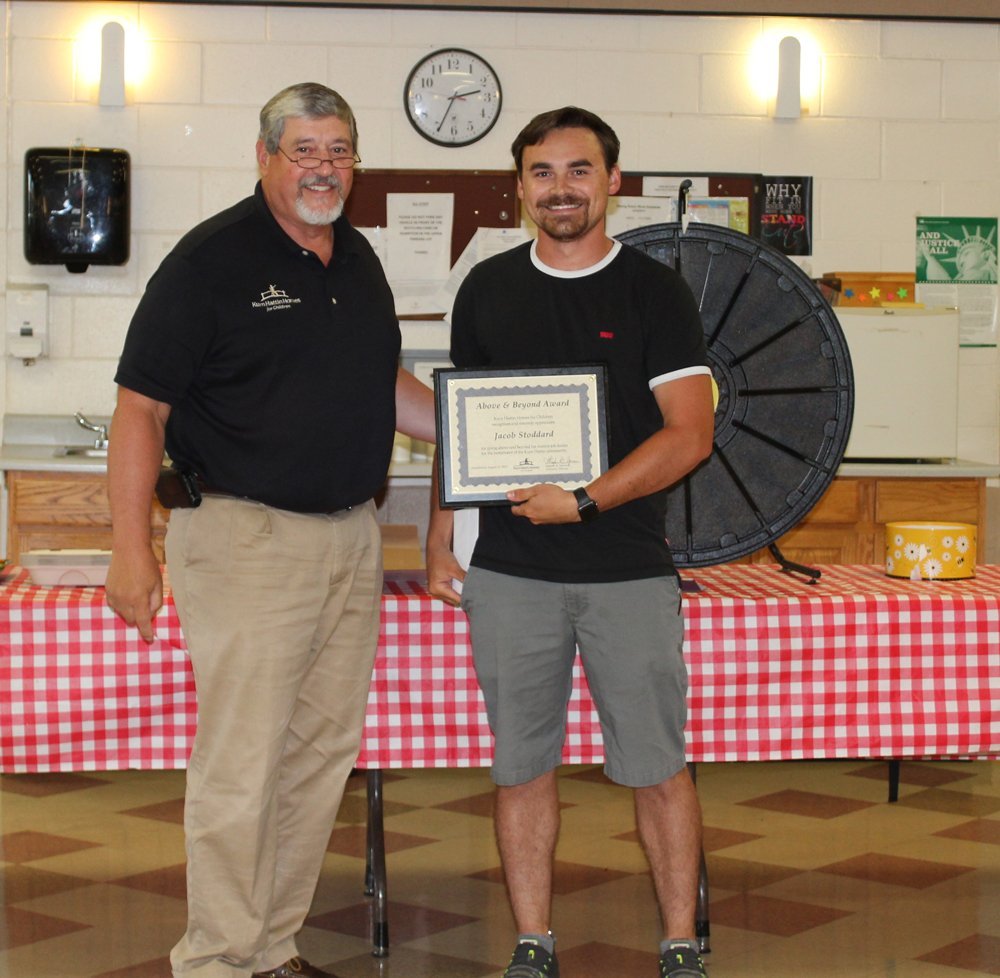 Kurn Hattin Maintenance staff member, Jacob Stoddard, being awarded the Above and Beyond Award by Executive Director, Steve Harrison