Thousands of candles can be lighted from a single candle, and the life of the candle will not be shortened. Happiness never decreases by being shared. ~From The Teaching of Buddha
This week, in honor of Volunteer Appreciation Week, Kurn Hattin Homes for Children recognizes the many kind people who give their time to come to campus and tutor, teach, coach, or otherwise support the students here.
Our volunteers' contributions to our programs are invaluable, and the positive effects on the children's lives immeasurable.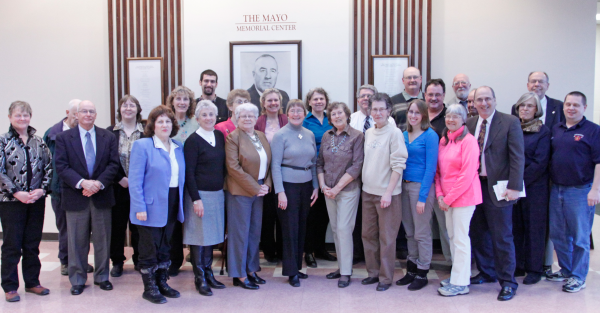 Volunteers at the 2013 Volunteer Recognition Dinner
Meet Kurn Hattin's Oldest Volunteer, Mrs. Prindl

Mrs. Vivian Prindl is one of Kurn Hattin's many treasured volunteers. She learned about Kurn Hattin some 15 years ago after reading an article in Vermont Life Magazine about the home and school for children in need. Touched by the article and wanting to do something to help the children, Mrs. Prindl, a retired teacher, called the school to ask about volunteering there.
Today, at age 102, Mrs. Prindl is Kurn Hattin's oldest volunteer and still makes the trip from her home in Hudson Falls, New York to visit the children, read to them, play games, and share stories of her world travels. For some of the children, especially those who may have experienced trauma, abuse, or neglect, Mrs. Prindl's warm, gentle presence provides comfort and makes them feel at ease. Former Executive Director of Kurn Hattin, Christopher Barry once commented, "She is like a grandmother to our children and an influence not experienced by many children. We've all learned much from Mrs. Prindl, including to respect age itself."
At her 100th birthday party, given two years ago at Kurn Hattin, Mrs. Vivian Prindl summed up her amazing life by summing up what she feels is life's most important lesson: "Be kind."
Mrs Prindl and all of our volunteers are living examples of kindness and the power of caring individuals to make a difference in the world. All of us at Kurn Hattin appreciate their work deeply.Thank you, Volunteers!