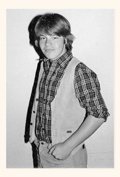 After I graduated from Kurn Hattin in 1981, I attended Keene High School in Keene, New Hampshire for the first two years of high school and then transferred to Monadnock Regional High School (MRHS) in Swanzey to complete my last two years. I graduated from MRHS in 1985. Throughout my high school years, I lived in seven foster homes, slept on the streets at times, went hungry often, and at times, truly saw the ugly side of humanity. Throughout high school I held part time jobs. After high school, I worked for a short period of time performing physically demanding jobs as a concrete construction worker with my uncle. In 1986, I enlisted in the US Marine Corps and served 4 honorable years. After serving in the US Marines, I decided to return to school and become a Registered Occupational Therapist. In 1995, I successfully graduated from Worcester State College in Massachusetts and earned a Bachelor's Degree with honors. After graduating from college, I decided to accept an Officer's Commission in the US Army. I am proud to report that up to this point, I have served in all 4 military branches (USMC, USN, USA, and US Air Force) totaling 23 years. I am currently serving in the US Navy as a Medical Service Corps Officer, at Walter Reed National Military Medical Center in Bethesda, Maryland as an Occupational Therapist and Certified Hand Therapist. I am three classes away from obtaining my Master's Degree in Human Relations from the University of Oklahoma because I believe that there is an incredible need to help people see the good in others as Kurn Hattin taught me as a young boy. I am grateful to Kurn Hattin because that home, those people, and those experiences prepared me for the many hardships I endured after I left Kurn Hattin.
Reflecting on Mr. Barry's upcoming retirement from Kurn Hattin, I'd like to say that he was always a genuinely nice man. He made me feel special as I looked up to him as a man and teacher. He was always friendly and walked with a special strut which I thought was cool. He always dressed well and I personally adopted my dress style after him. I was pleased to visit with Mr. Barry at our recent class reunion and surprised to learn that we both had a couple things in common. When we both graduated from high school, we both received the friendliest and best dressed titles out of our graduating classes. I give Mr. Barry full credit for being such a great role model.

Words of advice for all graduating Kurn Hattin 'Chiefs'…when you leave Kurn Hattin, surround yourself with good people. Hang out with kids that are smart, speak intelligently, and make friends with others who speak kind words. Think about the type of man or woman that you would like to become and find adult role models to develop your character after. There are many great people in the world who love you, value you, and really, really, really want you to succeed. Keep in touch with all Kurn Hattin staff members as well as your classmates. When times get tough, call them and ask for help. Remember, you can do anything. Always be genuine, smile a lot, be courageous, and be courteous to everyone like Kurn Hattin taught you. You may not know me, but I can relate with you. If you need me I am here. Contact me anytime on Facebook. Make us proud.
~Philip Maurice Sherrick Jr.,
Class of 1981