Nine Kurn Hattin Homes' Staff Honored with Years of Service Awards
Westminster, VT–Thomas Fahner, Co-Executive Director of Kurn Hattin Homes for Children honored the dedicated staff at Kurn Hattin Homes with Years of Service Awards during the May 1st, All Staff Meeting. Staff members receiving five-year awards were Candace Caggiano, Human Resources Coordinator and Sara Stine, Equestrian Program Instructor. Ten-year awards were given to Kim Fine, Senior Development Officer; William McHugh, Houseparent; and Sierra Sylvester, Houseparent. Fifteen-year awards were presented to Kristie Lisai, Teacher; and Darlene Pecor, Admissions Assistant. A twenty-year award was given to Richard Johnson, Director of Food Services. Richard stated, "I feel great satisfaction serving good food to the children and staff." And a thirty-year award was presented to Ann Hadley, Teacher. "It's great to be part of a loving, caring and extraordinary community", she proudly quoted.
All the honored staff received a framed certificate of appreciation and an extra paid day off to use in the new fiscal year. The twenty-year honoree also received a Kurn Hattin rocking chair which he donated to the Kurn Hattin library for the children to use while reading. Tom Fahner concluded the award ceremony with his praises to all the staff for their dedication.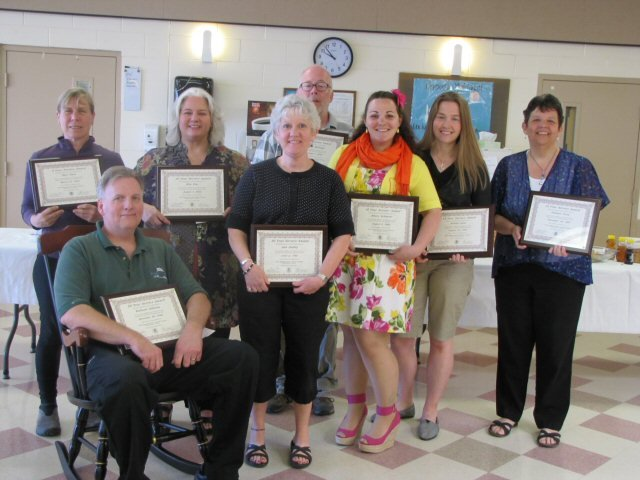 Photo caption: The 2013 Kurn Hattin staff celebrated for reaching benchmark years of service are Richard Johnson, seated; left to right: Sara Stine, Kim Fine, Ann Hadley, William McHugh, Sierra Sylvester, Kristie Lisai, and Darlene Pecor. Missing from photo: Candace Caggiano.
Kurn Hattin transforms the lives of children and their families forever. Since 1894, Kurn Hattin has helped thousands of at-risk children and their families by offering a safe home and quality education in a nurturing environment.