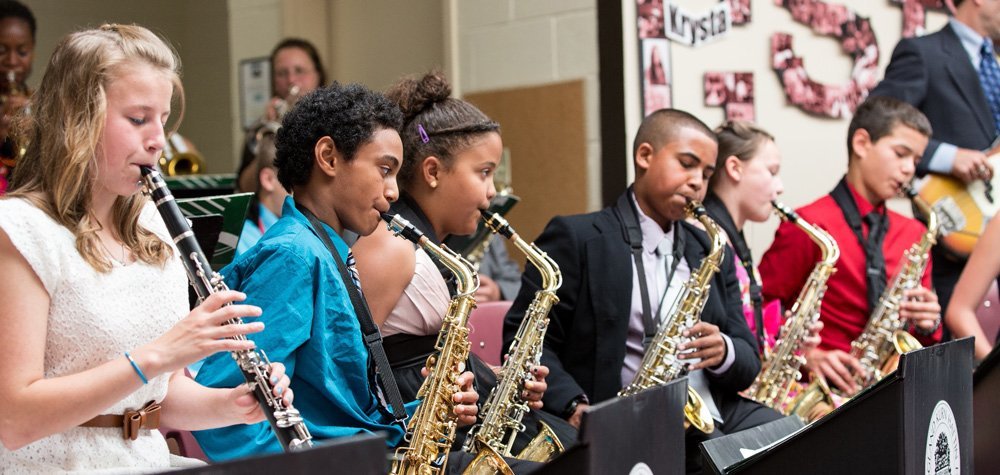 "Music education is an invaluable part of school programming. It teaches patience, diligence, and persistence, and draws out profound courage and resilience, particularly in children at risk."

~Lisa Bianconi, Music Program Director, Kurn Hattin Homes for Children
---
Music has been a signature program at Kurn Hattin since the early 20th Century!
Virtually all children participate in regular vocal concerts, and older children learn to play an instrument of their choice and may choose to join the marching or jazz band.
Kurn Hattin Homes have been known throughout the northeast for producing first-rate bands and choirs that perform frequently throughout the region. KHH bands regularly play in the Big E Parade in Springfield, MA; in the Strolling of the Heifers in Brattleboro; and at the Burlington Jazz Festival.
The choirs have sung the National Anthem at Fenway Park for the Red Sox; in Portland, ME for both the Red Claws semi-pro basketball and the Pirates semi-pro hockey; at Dartmouth and UVM basketball and hockey games; and at Lincoln Center Plaza in NYC.

Kurn Hattin hosts an annual Choral Invitational for middle and high school choirs each spring as well as a marvelous Jazz Invitational featuring the talents of middle and high school ensembles along with semi-professional and professional jazz artists – it is an evening not to be missed for jazz aficionados! Often, beginning dance opportunities are also offered to children in the MS years.
Art
The visual arts program at Kurn Hattin functions primarily during the academic day.
Art is offered for all children as a part of the academic program and features drawing and painting, 3-D creations, clay sculpting, pottery wheel opportunities, art theory, and some art appreciation. Some children pursue additional art options during their free-time through an Art Club.
Click below to learn more about Kurn Hattin programs.